Every January Pantone identify a key colour for the new year. This has an influence industry in all sorts of ways such as graphic design, soft furnishings, fashion and packaging. Last year 2021 was quite unusual as Pantone chose not one but two colours. To be fair, 2021 was not a normal year and two independent colours, Illuminating Yellow and Ultimate Grey were chosen to embolden the spirit, to come together and give support to one another with the promise of sunnier times ahead. To give us hope after the strains of lockdown and Covid.

This year Pantone has reverted back to a single colour. However, this year they have actually created a brand new colour which is unprecedented Pantone's history. The new colour is called Very Peri, a violet infused blue, a joyous colour that symbolises global innovation, creativity and transformation and the expansive possibilities as we come out of the restrictions of the pandemic.

This is a truly beautiful colour and harmonises with many other colours in the colour palette so it should be fairly easy to mix and match with items in your wardrobe. If you don't like blue or it doesn't like you, an option is to add a pop of the periwinkle blue with an accessory such as a scarf, shoes or a handbag. These are the ideal options to solve the problem and at Attavanti we have the perfect solution for adding this years on trend colour to your outfit.

This is an unusual shade of blue is reproduced by Pratesi, Italian designers based in the heart of Florence known for their bright, beautiful, vegetable tanned, coloured leathers have a couple of stylish bags that fit the criteria. The first is the Brunelleschi grab bag. The design is based on a briefcase but smaller with detail that includes the classic locks and top handle. A statement piece in radica leather that has an elegant polished finish.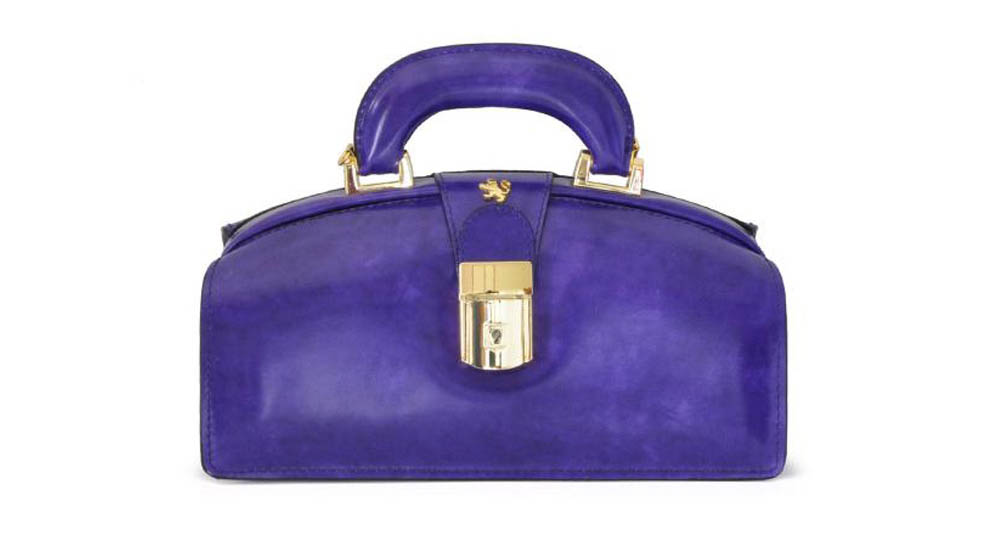 Another bag by Pratesi I have chosen is an unusual statement shoulder bag which is shaped like a cool SRL camera with an outer pocket that resembles the lens and details that include a flash and view finder. This super cool and very eye catching bag is very popular with photographers both professional and amateur or someone who loves to stand out from the crowd.
If you love silk scarves, Don Mimi, Italian designers from Central Italy have the most luxurious scarf in shades of Very Peri. Exclusive sea shore design in 100% silk from Como, printed with a seaside theme of sea shells, coral and star fish. Opulence that is both beautiful and elegant for spring and summer.
Last but not least a luxurious Zaza, Italian designer hare print, silk tie from their animal range. The geometric repeat pattern conceals the hare motif and it is not obvious until under closer inspection. Zaza ties have been handmade for over three decades by the Malagone family in 22oz weight, woven Italian silk twill from the shores of Lake Como. Hand stitched with a three fold thickness to create the perfect knot.
Enjoy a bit of Very Peri and sunnier times ahead.