As the saying goes, all work and no play makes Jack a dull boy. I know there are plenty of people out there who have to work many hours to make ends meet and there are plenty of people who are workaholics and thrive on it but ultimately the saying is true and even if you have a limited budget, it is important to have some leisure time in order to recharge your batteries and enrich your lives. After all we are only here once so make sure you make the most of it and take a break.

For most of us having a holiday is a well earned reward for working hard all year. We all have our own ideas of what the perfect holiday should be but essentially it's about getting away from the daily grind and doing something different. However it's probably true to say that for most of us it means going to a destination either in this country or abroad.

Booking a holiday is a bit of a mixed blessing I find. First of all there's the time spent just thinking about where to go and then the stressful and time consuming part of planning and booking it. I usually take so long thinking about it and putting it off, that by the time I do start looking properly, the hotel room or maybe the cottage that I would have liked has already gone. I think I must do this every year! However once you have finally booked it all up the feeling is fantastic and straight away you are counting the days.

It is also a great excuse to update your summer wardrobe maybe with a few light tops and a complementary dress or skirt. You'll also want to consider buying a new handbag to take as your everyday black leather work bag just won't do. There really are some great summer bags to consider this season. For me the first choice would be a fairly large multi purpose bag, either a shoulder bag or a tote. A bag you can carry some essentials around with you such as sun tan lotion and some water. It will also be perfect for doing a little shopping or a trip to the beach. If it is large enough it may also allow you to carry a small bag, clutch inside on the flight over for those evenings out at the restaurant when you perhaps want something less cumbersome.

Straw and wicker bags are very in at the moment, seen on the arm of every Instagrammer and are just perfect for holidays. Also bags that have a fretwork, lace pattern cut out of the leather making them light weight so again perfect for carrying around for long periods of time. Colour is an important factor too. It's a summer holiday bag so a chance to choose a brighter colour or maybe white or even metallic instead of the usual black and tan. Here are a few great options from our collection.

Arcadia Lace Leather Shoulder Bag
This lace fret shoulder tote handbag is the perfect all round holiday bag. Light and easy to carry, this stunning bag has an inner cloth zipped detachable bag that offers additional security. It would look very much at home at the poolside or beach and is also available in black and red.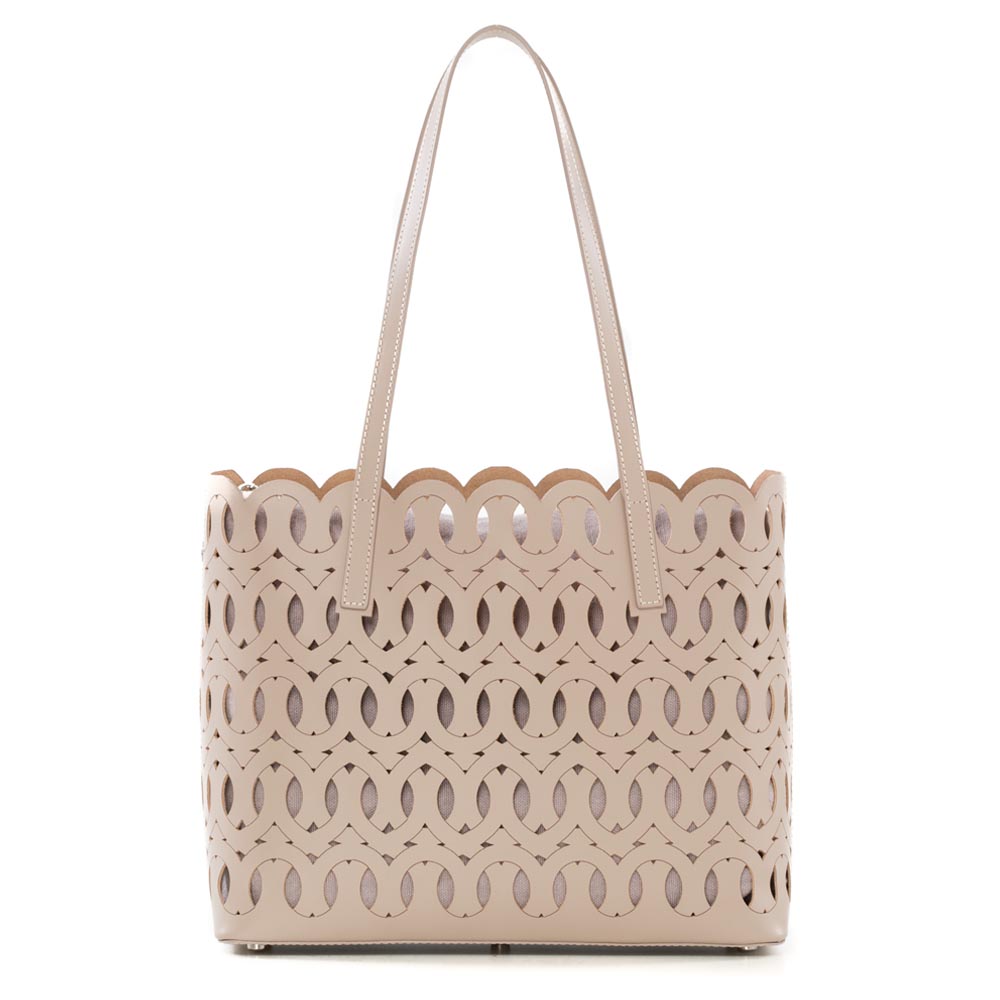 Paolo Masi Wicker and Bamboo Handbag
Handcrafted in Florence, Tuscany by artisan Paolo Masi this very stylish bag is very in at the moment with its wicker weave pattern. It's very flexible as a holiday bag because you can used it both day on a stroll around the town and in the evening at the bar and restaurant. This is a bag that will suit most outfits.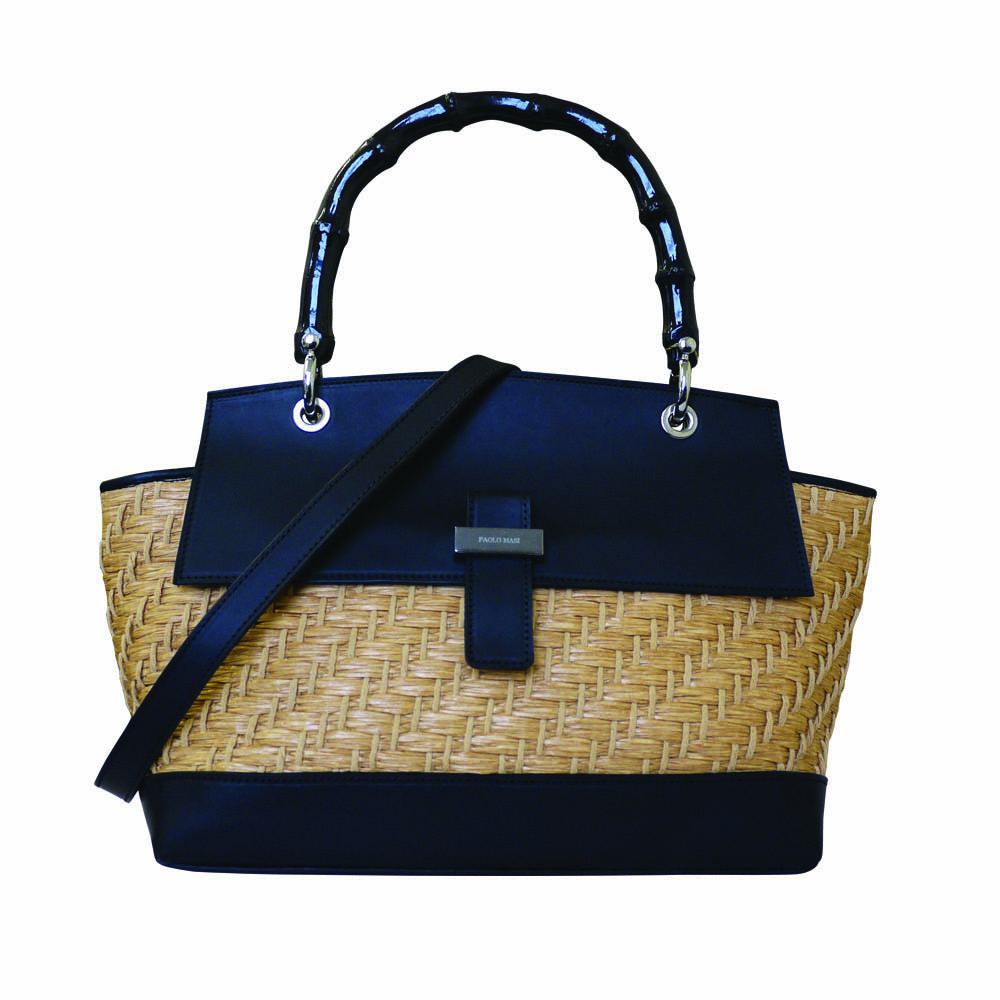 Pratesi Camera Polished Leather Cross-Body Handbag
This quirky bag is a real show stopper and will really look the part on your holiday break. This camera shaped bag is handmade from polished radical leather by one of our most popular brands Pratesi who are based in Florence. It even comes complete with a useful LED internal light.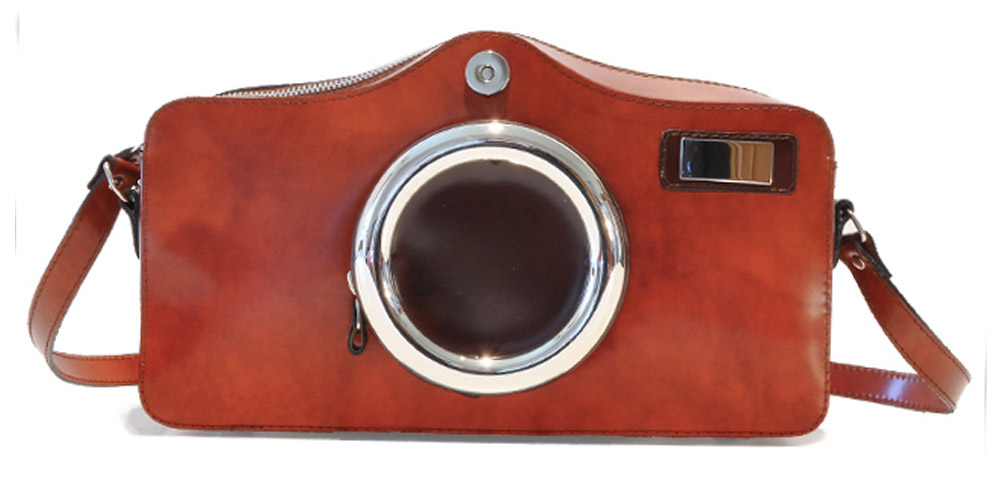 Arcadia Castello Large Leather Bucket Shoulder Bag
Metallic bags are very trendy at the moment and this beautiful example is by Arcadia who are based on the Adriatic Coast of Italy. Available in either silver or gold it is a real statement piece and will really stand out in the summer sun. This bag has a top zip closure making it more secure when out and about.